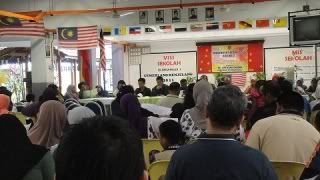 Attending the PIBG AGM is somewhat the necessary evil for us. What's PIBG AGM exactly, you ask? Oh, that's Parents Teachers Association Annual General Meeting. We try to be as involved as possible and support Raimie's school activities as much as possible so to PIBG AGM we went yesterday.
It was good that my son's PIBG AGM went without too much a drama. The headmaster is a nice guy who is always willing to listen and most of the teachers are nice too, as are the parents. So I have to say, my son's PIBG AGM is way better than some school that we've heard horror stories about, with hardheaded headmaster, recalcitrant teachers or troublemaking parents but the meeting on Saturday went way too long for my liking because of some issues which I felt a bit too frivolous to talk about in the AGM.


I'm all for parents voicing out their opinions for a better school environment and a better relationship with teachers and all but I really don't understand why some people think it is appropriate to voice out their children's personal schooling problem at the AGM instead of having a face-to-face talk with the headmaster and teachers. I mean, if it's regarding school bully and bully teachers, yeah well, that is good to be raised out for all to hear but when you talked about how you didn't understand your Year 1 child's time table or which day's time table to be used for Saturday's replacement class or how you are not sure what homework is given to your child on any particular day or why some books have to be left behind at school, well that can be solved with just a phone call to the school or the teacher or even your child's classmates. Didn't you bother take down the school's number and get to know your child's teacher when they were enrolled to the school? At least meet the teachers on orientation or Day 1 or report card day!
After all that talk about school's responsibilities to mould students into excellent students by the parents and how parents wanted teachers to provide such a nurturing environment to the students and how to change the school for the better; it is interesting to see that these same parents think nothing of not throwing their own trash into the dustbin and expect someone (teachers, who else?) to clean up after them! A parent even had the gall of taking my own bottle of water that I placed on a chair beside me without so much a hesitation and wasn't at all apologetic when I told him off. Jerk!
I'm not a teacher and I do get exasperated with them sometimes, just as I get exasperated with my own son with his studies but sometimes I feel we parents really are asking far too much from teachers. Not only do they have to teach our kids in class, we expect them to babysit them when they are out of class, check our childrens' schoolbag and make sure nothing got missing, make sure they eat during recess (all these were raised out during the AGM, BTW), and even pick up trash for us? Might as well as hire a private tutor or get my son be home-schooled, I say. Then I can watch over him or let someone watch over him like a hawk. No, wait! Better to put blame on somebody else rather than take responsibility on my child' behaviour.